Last Chance to Register​​
COURSE: Archery Foundations Hybrid Instructor of Beginners Workshop for Summer Camps and Community Programs (short term, non-competitive)
This is a specialized certification course for Instructors of Beginners for Summer Camp and Summer Community Programs. (These are short term, non-competitive programs).

This is now a 1 Day course.

This is an IN-PERSON course. Maximum enrolment is 24 persons. Course includes basics on leadership basics, equipment management activity planning, range safety and more. Participants are invited to stay for an evening of program specifics, what has or hasn't worked and ideas to share.
Event Registration: https://thelocker.coach.ca/event/public/5590705
1. Returning users will need to Login and new users will need to Register with the Locker using the above link.
2. Once your account is created and verified, click on "Calendar".
a. Find June 10 – Archery Foundations and click on the course name.
b. Click "Register for this Event".
c. A notification will be sent to Alberta Archery and you will receive an email within 24 hours with a payment link.
3. Follow the payment link to submit payment.
a. Login or create a new account. This is NOT the same as your Locker account.
4. Attendance in the course is not confirmed until payment is received.

Workshop Details:
· When: Saturday, June 10, 9:00am-8:00pm
· Where: Birch Bay Ranch (51505 Range Rd 215, Sherwood Park, AB)
· Costs: $45.00/person non-members, $15.00/person for AA members
· Lunch and Supper meals are included in above cost
· Saturday overnight to June 11 available if needed – bunkhouse style accommodations, you will need to bring your own bedding

Registration closes June 3rd, 2023 For any questions comments or more information email [email protected]
---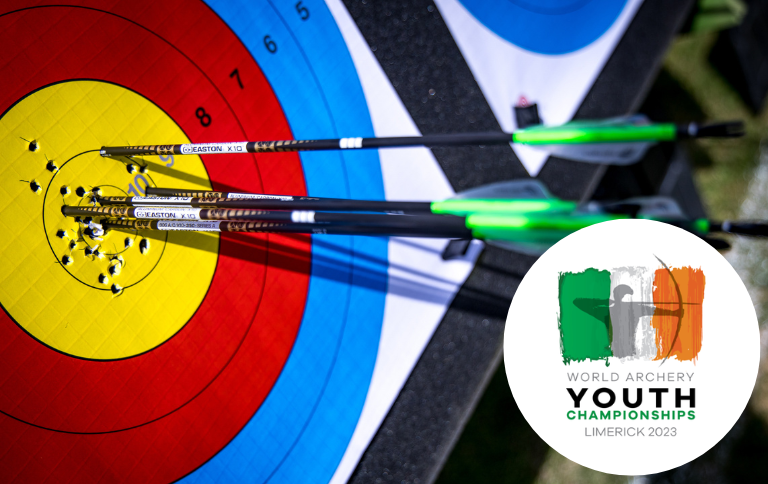 FIVE Alberta archers named to the Canadian compound team headed to the
World Archery Youth Championships in Limerick Ireland.
Congratulations:
Adam Berge
Brynnleigh Lohner
Riley Warwa
Madelynn Holkema
Jordyn Polowaniuk
---
Click on JUNIORCAMP in the menu above to register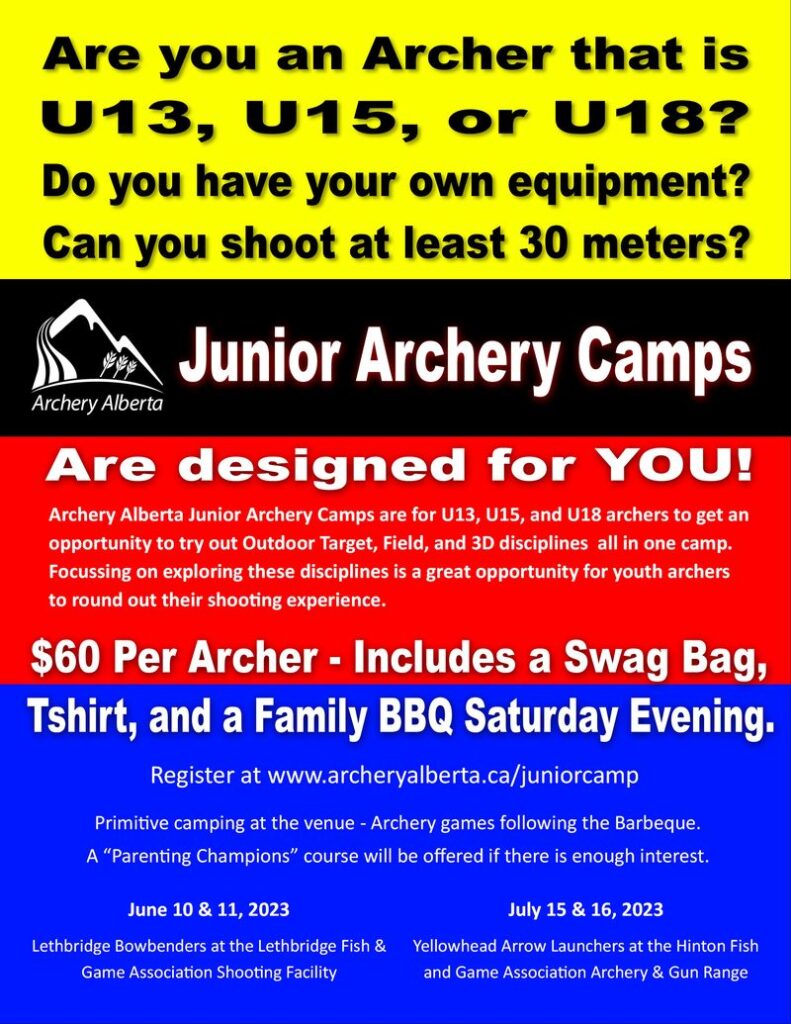 ---
Registration for The 2023 Canadian Archery Championships is now open.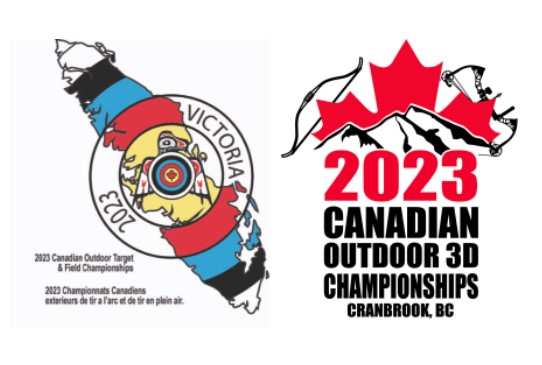 ---
The new rules and format changes for the Canadian 3D Outdoor Championships have been approved and are available on the Archery Canada website as part of Book 2, appendix AC 3.5. The redeveloped format continues to provide an experience that will help to prepare archers for international format while meeting feedback received following the initial changes made for 2022. The new schedule for the 3D Outdoor Championships is as follows:
| | | | | |
| --- | --- | --- | --- | --- |
| | Friday | Saturday | Sunday | Monday |
| AM | Registration /Inspection | Round 1 | Round 3 | Finals A |
| PM | Practice | Round 2 | Team (5 hrs) | Finals B |
The changes include:
The qualifying round will be based on 3 rounds of 20 targets (1 arrow per target)
Individual Finals will be five (5) targets at varying distances and sizes, and scores will carry over from the Qualification round total of 60 targets.
For the Individual Finals Only, an arrow shot inside the 11 scoring ring scores 14 points unless the arrow breaks the line of the 11 rings, in which case it will score 11 points.
There is no Last Chance Qualifier.
Introduction of the mixed team event of a male and female archer in the following groups: Known (K50, hunter), Senior Compound (Senior Unlimited and Fixed Pins), Youth Compound (U18 and U21 Unlimited), Unsighted (Traditional, Barebow, Instinctive (WA Traditional) and Longbow)

Teams are registered separately, and will be ranked for the team matchplay based on their team members' total scores from the Individual Qualification Round
A Prize purse will be awarded for the top 3 teams in each group based on the fees paid
You can find the rule change summary here (in English for now, French coming soon): https://archerycanada.ca/wp-content/uploads/2019/06/AC-2023-Rule-Book-Change-Summary-04-18-2023.pdf
The rule books on the website were updated (in English for now, French coming soon). For the 3D Outdoor Championships, pay specific attention to Rule Book 2 and 4. You can access the Rule Book page here: https://archerycanada.ca/resources/rules-book/
If there are any questions related to the rule changes, please contact [email protected]
---
There are many changes to the Archery Canada Rulebook that everyone should know about. You can download it from the DOWNLOADS tab in the menu above.
---
Select a button below to read more about archery disciplines.