COACHING
In alignment with Archery Canada, the Coaching Association of Canada, and the Long Term Athlete Development Model (LTAD) for Archery, Archery Alberta supports the development of Archery Coaches through the National Coaching Certificate Program (NCCP).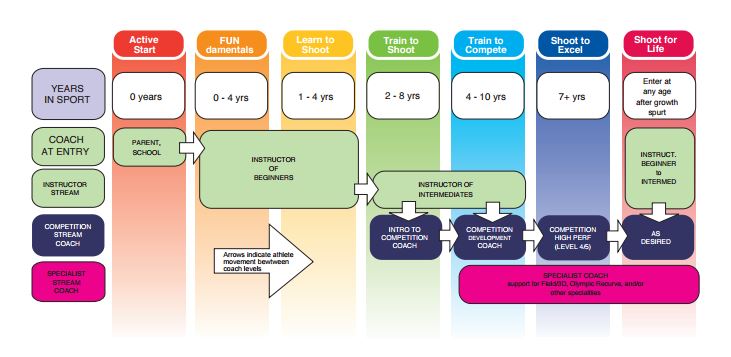 This development is further reinforced through Archery Alberta's Strategic Plan where we outline our desired coaching levels and through our Club Assistance Program where additional financial support is given to those affiliated clubs with Certified Coaches.
Excerpts from our Strategic Plan:
Goal 1.1: To have a full complement of coaches, judges, and officials across the province that will be available for local and regional competitions.
One (1) Instructor Beginner Coach per 8 junior archers
One (1) Instructor Intermediate Coach for each club
Three to Five (3-5) Competition Development Coaches for the province
Excerpts from our Club Assistance Program (CAP) Policy:
Additionally, certified coaches and officials that belong to the club will determine further CAP allocations as follows:
2. Coaching Amount: Total number of certified club coaches registered under the National Coaching Certification Program as of September 30th. (Coincides with when club affiliations and membership fees are due.)
$30.00 for each Certified Instructor Beginner Coach
$50.00 for each Certified Instructor Intermediate or Introduction to Competition Coach
$60.00 for each Certified Competition Development Coach
---
PARENT & CLUB AWARENESS
The current certification status of any NCCP Coach can be viewed via a Public Transcript, they are no longer issued certification cards. This certification is transferrable across Canada. Coaches can provide you with their NCCP # and Last Name to enable you to confirm their certification. Archery Alberta uses this technique to confirm Team Coaches and CAP Funding as well.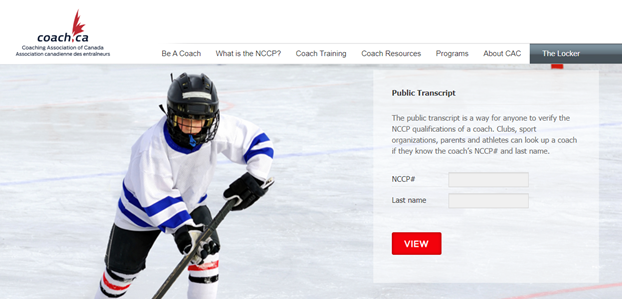 ---
CLUB RECOMMENDATIONS
The following is an ideal coaching level recommendation for Archery Alberta affiliated club programs.
Instructor Beginner: Depending on the age and maturity level of the archers, a minimum of one (1) Instructor Beginner for every ten (10) archers participating (Archery Canada Range Safety Manual). It is highly recommended that clubs consider a span of control between 5-7 archers.
Instructor Intermediate: For those clubs offering more structured programing (versus drop in style) or having multiple Instructor Beginners working together, there should be an Instructor Intermediate coordinating the Instructor Beginners and designing a program that flows over time depending upon what the clubs offer.
Competition Stream: Due to the increased commitments to certification and depending on the development of the club, these coaches are typically geographically and equipment style specialized. Some clubs may have this stream of coach present, but otherwise archers may need to link with these individuals.
WORKSHOP SCHEDULING
Instruction Stream (Beginner and Intermediate) are presently offered in Province; Competition Stream is coordinated with adjacent provinces.
The Coaching Coordinator works to schedule two (2) to three (3) Instructor Beginner Workshops spread throughout the Province (Central, North, & South) based upon demand and identified shortages through the recruitment of host affiliated clubs.
Due to present provincial demand, Instructor Intermediate Workshops are scheduled at a minimum every two (2) years in odd numbered years (2017, 2019, 2021, etc.) and are typically hosted in Central AB.
These workshop locations are scheduled on the NCCP Workshop Calendar for general viewing. Specific "Workshop Posters" are released approximately 2-3 months via our Social Media platforms before the workshop with a Learning Facilitator Contact for Registration tracking purposes.
See our Coaching Workshops page for more information.
CERTIFIED COACH OPPORTUNITIES and ONGOING PROFESSIONAL DEVELOPMENT
There are additional Coaching Opportunities available for Certified Coaches to pursue outside their club environment and ongoing Professional Development to maintain their accreditation. This is especially important for those coaches that may take a break from being active in archery and then come back again to be current on any changes to previous training.
See our Ongoing Professional Development page for more information.